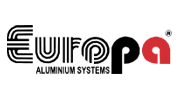 Europa Glass Railings
EUROPA Glass Railings is a high quality and modern aesthetics frameless glass balustrade system without vertical support columns. This minimal choice is based on current architectural trends with big balconies, offering unobstructed view and providing a sense of freedom.
Specially heated double glazing can be attached. The system's design in combination with the multiple layers of PVB film offers maximum security in case of breakage, significantly reducing the risk of falling glass pane after an unlikely incident.
The special PVB welding film can be either tinted or colored, choosing between 9 different colors, offering a touch of luxury to the final outcome.